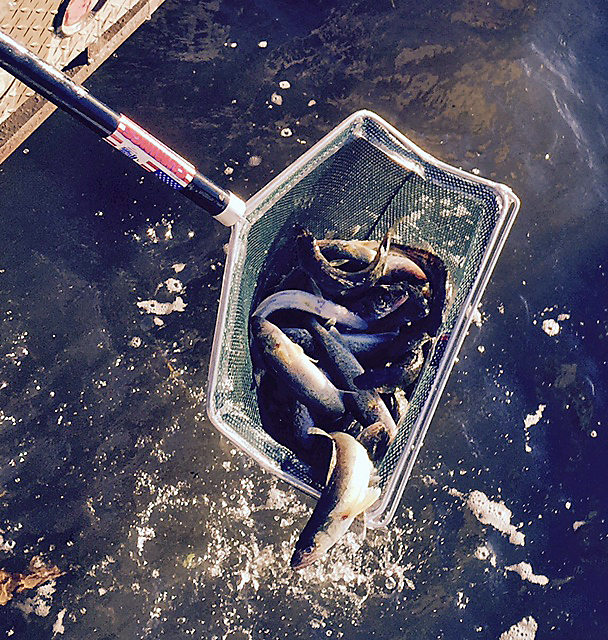 Last fall Bosek Fisheries from Garfield, Minn., stocked 400 pounds of 7-inch to 9-inch walleye fingerlings in Big Swan in an effort to supplement stocking efforts by the DNR.
The DNR approved stocking 400 pounds of fingerlings instead of the 800 pounds originally requested. Association members authorized up to $10,000 for the stocking project, which ended up costing $6,000 with the lower level of authorized stocking.
Al Leinen, director on both the Big Swan Lake Improvement Association and the Big Swan Lake Improvement District (LID) boards, says we need to continue stocking our lake because the DNR has focused less on stocking in recent years as it concentrates on combating invasive species. Historically the DNR has stocked walleye fingerlings and walleye fry in alternating years in Big Swan. Leinen says in 2018 it didn't stock any fingerlings in the state because of reduced pond production.
Jim Bosek has been in the fish-raising business for more than 15 years, raising walleye, perch, crappie, bluegills and walleye. He also raises bait for sale and to feed his own growing fish. He did the stocking in late October prior to the lake icing over to give the fingerlings a better chance to survive and thrive when predator fish are slowing down.
Leinen says the fingering stocking program in Two River Lake near Holdingford, Minn., has proven successful after 15 years. It will take a few years to determine how well it works in Big Swan, he adds pointing out the lake has trouble sustaining walleyes because of its overabundance of northern pike and lack of good-sized perch for feeding.